In general, the rate of hair growth gradually decreases as people begin to age and this condition is commonly referred to as 'alopecia'. 'Involutional Alopecia' is the natural thinning of hair with time. Here in this condition, a majority of hair follicles enter the resting phase and the remaining hair follicles tend to become shorter and fewer. Another genetic condition which makes men lose their hair even during their teen ages is the male pattern baldness. It causes gradual hair loss from the frontal scalp and the crown and the hairline receding.
Another predominant condition generally found in youngsters and children is termed as 'Alopecia Areata'. It is characterized by sudden onset and hair loss in patches. It will eventually lead to total balding and might grow back as well. Next one is 'Telogen Effluvium' in which temporary thinning of hair on the scalp region is predominantly observed. 'Scarring Alopecia' leads to irreversible hair loss and skin inflammatory conditions such as acne, folliculitis and cellulitis. It affects the hair's regeneration ability leading to permanent baldness.
I. Bio Hair Tablet 10's:
Bio 10 mg Tablet is a B complex vitamin used as nutritional supplementation for dietary shortage or imbalance which may cause hair loss or total alopecia, brittle nails, skin rash in infants, and mild depression.
Major & minor side effects for Bio 10 mg Tablet:
Hypersensitivity
Stomach discomfort and pain
Skin rash
Frequently asked questions:
How long does it take for this medicine to take effect?
There is no well-established clinical data available regarding the onset of action of this medicine.
How long do the effects of this medicine last?
There is no well-established clinical data available regarding the duration of action of this medicine.
Is it safe to consume alcohol while taking this medicine?
Interaction with alcohol is unknown. It is advisable to consult your doctor before consumption.
Is this a habit-forming medicine?
No habit forming tendencies were reported.
Can this medicine be taken during pregnancy?
This medicine is considered safe for consumption by pregnant women. Your doctor will prescribe an appropriate dose for you based on your clinical condition.
Can this medicine be taken while breastfeeding?
This medicine is considered safe for consumption by breastfeeding women. Your doctor will prescribe an appropriate dose for you based on your clinical condition.
II. B Hair Lotion 100ml:
Product Specifications:
Volume: 100 ml Milliliter (mL)
Product Type: Hair Treatment Products
Indication:
Biotin 0.01%
Hydrolyzed Keratin  0.5%
Anagain 2%
Saw Palmetto 0.25%
Calcium Pantothenate 2%
Tocotrienol 0.1%
Soluvit Richter 1%
Bioflavonoids 1%​
Zemea 2%
Aloe-vera Juice 2%
Dermarex HealthCare is one of the fastest-growing pharmaceutical company in India focusing primarily on consultant specialities such as Dermatology, Cosmetology, Trichology, etc. super specialities such as Diabetology, Cardiology and other general ailments. Dermarex HealthCare was established in 2006 with operations in Tamil Nadu & Kerala. Our journey started with 7 Dermatological products and today we have grown tremendously with 66 innovative products. At present, the operation is in the whole of South India i.e. Tamil Nadu, Kerala, Andhra Pradesh, Telangana, Karnataka & Pondicherry. We have 5 divisions namely Dermarex, Mikku n Yokko, Cosmirex Healthcare, Cosmirex Trichoceuticals & Diacarex HealthCare. Dermarex HealthCare has tie-up with some of the leading state of art manufacturing facilities in India who produce products with superior quality and international standards. We are committed to offering products fulfilling patient needs and expediency over available therapeutic options in the market with the continued support of the leading manufacturers in the country. Our brands of prescription products have earned respect and admiration from both patients and physicians due to our supreme quality, optimal price and effectiveness of the products. We are proud to mention that our success is due to the continued support extended by our distinguished healthcare providers. Our success journey will go a long way by introducing a wide range of products to the market with exceptional quality and advanced formulations. Using advanced technological means our dedicated sales personnel ensure to provide complete solutions to our clients, reaching out to more than 4000 doctors on a regular basis, serving over 250 million satisfied customers.
III. Bio hair Shampoo: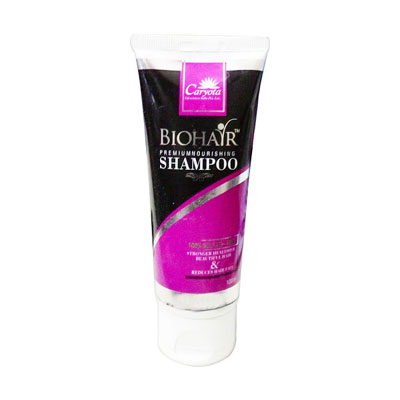 BIO HAIR GROW SHAMPOO Gorgeous Hair with the goodness of 9 Herbs
Product Specification :
| | |
| --- | --- |
| Ingredient | Herbal |
| Brand | Bio Care |
| Packaging Size | Standard |
Bio Hair Grow Shampoo is enriched natural goodness of 9 herbs for hair, making them strong from inside and beautiful outside to keep you looking absolutely gorgeous all day long.
It works not only for oily, dry or normal hair but also works for wavy, kinky, straight, fine, thick, medium, curly hair.
It gently cleanses and provides your hair with its daily dose of proteins. Keeps your hair soft, smooth and healthy.
It contains Amla, Hibiscus, Neem, Lemon, Bringraj, Alovera herbs.
They work magic on hair and removes dandruff, giving your hair & scalp complete nourishment for that problem-free, healthy crowning glory. Paraben-free
Usage:
Apply Shampoo all over the wet scalp. Massage the scalp gently with fingers in a circular motion, so that the Shampoo clears the dirt and cleanses the hair. Wash thoroughly.
IV. Anaboom Anti Hair Fall Serum 60ml:
This is a Generic Anaboom Anti Hair Fall Serum (60 Ml). Keep all medications out of the reach of children. It is supposed to be applied to the root of the hair i.e. on the scalp.
Anaboom Anti Hair Fall Serum (60 Ml)
Keep all medications out of the reach of children
Use daily/weekly pill boxes to keep medication organized
Take your medication exactly as it has been prescribed or as listed on the label
Ideal For: Men
Hair Type: All Hair Types
For Damaged Hair
Formulated For: Anti-hair Fall
Anaboom Anti-Hairfall Serum is a synthetically and chemically formulated serum for the weak and unnourished hair. The anti-hair fall serum has been found to be effective in providing strength to the weak hair. It significantly reduces hair fall and provides the essential amino acids to the hair scalp which consequently strengthen the hair follicles. This enhances the hair regrowth and therefore also tremendously increase the volume of the hair. It serves as a strengthener and tonic for the unnourished hair follicles. It is applied on the affected areas and softly massaged with the fingers.
Directions of Use:
Take serum on palms
Rub gently on the affected area of the scalp with fingertips
Use about 1-2 ml or as required by individual
Use continuously for optimum results
Use under medical supervision
V. Anaboom Anti Hair Fall Shampoo 100ml:
This is an Anti-Hairfall Shampoo, It works effectively. Contains 100 ml in a pack. Anaboom Anti Hair Fall Shampoo helps to control hair fall. It is good for hair growth and is free from SLS and SLES.
Anti Hairfall Shampoo
Contains: 100 ml
Works effectively
Product Highlights
Prevents hair fall, maintains healthy hair and scalp
Increases blood flow on the scalp
Provides nutrients to hair follicles
Leads to healthy and thick hair
Key Ingredients:
Key Benefits:
It is anti-hair fall shampoo
Good for hair growth
It is free from SLS and SLES
Directions For Use:
Use Anaboom Anti Hair Fall Shampoo by applying it to wet hair
Massage into the hair
Rinse with water
Safety Information:
Store the formulation in a cool and dry place
Read the label carefully before use
Do not exceed the recommended dose
Keep out of the reach of children
Hair fall can be easily recognized by closely following the various signs and symptoms associated with it. Thinning of hair, hair falling out in patches or clumps and hair follicles becoming brittle and breaking ever so easily are a few of the most commonly observed conditions. So, if you happen to experience any of the above symptoms do consult a hair care expert or dermatologist to eradicate the hair fall sooner than later.